What to Look Out For When Buying Your New Shower
When you are in the process of purchasing your new shower enclosure you need to ensure that it is exactly what you want in terms of quality and aesthetic.  Making the wrong decisions may be an expensive thing if you end up refitting in only a short space of time.   So what sort of things should you be looking out for when you are in the process of purchasing your new enclosure? Well let's go through the most important things that you need to check right now.
Rollers and Hinges
The rollers or hinges used on shower doors are a very important feature that needs to be checked before the purchase of the product because of the materials that can be used to make them. Some sellers provide better prices for the public by using in-expensive plastic materials to make the rollers and hinges but this is not what you want for your new shower. Take our Aquaspa range for instance, all of these products come supplied with strong metal twin rollers and hinges making them a longer lasting option compared to plastic hinges and rollers which are not designed to be a long lasting butare cheaper to manufacture, so will require replacing on a regular basis.
Glass Quality
The quality of the glass is another important feature that needs to be considered but perhaps not for the reasons you would think.   A large quantity of people think that the only important feature of the glass is its thickness, which yes is an important thing to know before purchasing but you also need to ensure a number of other things such as whether or not the glass is of British standard BS7570, safety glass or if it has been pre-treated with easy clean treatment. For examples of these features take a look at our sliding shower door range, all of which include a minimum of 6mm toughened safety glass, meaning the glass is designed to withstand any direct impacts which believe me we tried with a hammer and couldn't even make a scratch! They are also pre-treated with easy clean glass treatment meaning that you can easily clean any marks or dirt off of your shower enclosure hassle free.
The Frame
The strength of your frame is also an important factor to consider as if you opt for an enclosure with more in-expensive materials then it can seriously affect both the strength and aesthetics of your new shower enclosure. With some cheaper built enclosures you need only push the wall profile slightly and make a dent in the item which on chrome enclosures especially can be highly noticeable. The quality of the chromium frame is also a consideration as this gives the shower enclosure its strength. 
Door Handles
Some showers come with a simple knob handle which can give the look of a cheaper finish, our Aquaspa range have bar handles which are more durable and easier to use and also gives a high quality appearance.
Thank you

We at Shower Enclosures Direct wanted to take this opportunity to thank all of our customers who have been kind enough to take time out of their day to leave us reviews on their experience with Shower Enclosures Direct. We are overwhelmed with the amount of positive experiences people have had and wanted to share them with you so here are a few of the great reviews we have received from our fantastic customers.

Andy
Off set shower enclosure
Speedy delivery, easy to install and looks really good

Rachael
Shower purchases
Fantastic price, the plumbers were really pleased with the quality, as they had asked us to buy the showers from a plumbers merchants, which was 4 times the price of Shower Enclosures Direct. Local Cornish company too, so even better. Really helpful when arranging delivery.
J Harper
Arrived on time in perfect condition,meets expectations.
The screen was fitted by builders so I cannot comment on how easy it was to fit but they didn't complain so it must have been fine. It looks great-we like the curved edge because it matches our curved ceiling. Very clear glass and easy to keep clean. Makes a good seal with the bath edge so it keeps the water in. Swivels smoothly and we leave it across the bath most of the time to dry the bottom seal to avoid mould etc building up there. Had it for 2mo now.
Julie Norman-Lomax
Wow what customer service
I ordered a very reasonably priced shower screen from this company and had some trouble with the courier company that tried to deliver my shower screen. The problem was we hadn't moved into the new address that the courier company was trying to deliver to and we kept missing each other, I wrote an email to shower enclosures direct to complain about the lack of communication from their courier company and from that moment on somebody called Katie from sales took it as a personal challenge to make sure my screen got safely to me! The dedication and determination she showed was second to none and the shower screen is perfect! Thank god for the wonderful Katie in sales you do your company proud!
These are just a few of the great reviews that our customers have left for us on trust pilot so to see more check us out on Trustpilot now and thank you again for all the positive feedback!!
What Types Of Hinge Shower Doors Are There?
Installing or replacing your old shower doors can make a big difference in the look and functionality of your shower. When you begin to shop for your new shower doors you will quickly see that there are many different types of shower doors available to you. To get you started we are going to cover the different types of shower doors which have some form of hinge mechanism. So let's get started.
Hinge Shower Door
The first and most obvious type of hinged shower door is in fact simply called a hinge shower door. A hinge shower door is a glass panel that opens by swinging open in one direction like a typical door. The door hinge can be attached to a stationary glass panel or to the wall or shower surround (as shown in the image provided).

The hinge shower door is a perfect choice if you want a large entry into your new shower as they open up fully to allow you the full entry width of the shower. However if you have a smaller bathroom and don't really have the space to fully open this your shower door then this may not be the best type of shower door for you as it will require a large opening area.
Pivot Shower Door
Another well-known type of hinged shower door is a Pivot shower door. A Pivot shower door is similar to the hinge shower door in the way that it is a single glass panel that opens by swinging open, the majority of time, in one direction. Pivots consist of metal sleeves that fit around the top and bottom of the shower door. These sleeves connect the door to a metal rod, or pivot, so require a frame of some form so that the pivot hinges can be held in place both above and below the shower door.

Like the hinge shower door it will require a bit of space to open the door but not quite as much, this is because the pivot hinge is positioned a certain distance in from the edge of the door unlike the hinge shower door. This means that some of the door will swing inwards whilst the majority of the door will open outwards. However the smaller opening area does come at a price, as this will reduce the entry width of your shower door, in some cases quite significantly.
So Which Is Best Suited For Me?
Which one is best suited for your bathroom? Well that depends primarily on the space you have available in your bathroom. For instance as stated the hinge shower door requires a larger space to allow the door to open fully whereas the pivot hinge doesn't require such a large outer space as a percentage of the shower door opens inwards.

It's not all about space though, it's also important to consider both the aesthetics of the shower doors and practicality. So as far as aesthetics goes it's down to you to decide which one you prefer the look of, however when considering the practicality you are mainly looking at the width of the entry gap each door provides. So again as previously stated if you want to have the full width of the door as an opening then the hinge door is the one for you however if you aren't too concerned with entry width then it is a case of whichever door you prefer.
Can I Make My Small Bathroom Look Bigger?
Small bathrooms are an extremely common thing in the UK making them that much more of a challenge to fit in all of your bathroom items. However, by using a few simple design techniques, you can make your bathroom look both spacious and stylish. Therefore, to save you time we have had a look around at the various different techniques people have used around the country, which made their bathrooms look and feel more spacious which we are going to share with you right now.
Fresh Looking Paint Job
One of the simplest things that can make your bathroom appear more spacious is to give it a paint job, this might sound completely ridiculous but we can assure you it is not. If you tend to use a patterned paint job or wallpaper it tends to make the room seem crowded and somewhat cluttered, so ditching this for a clean and simplistic paint job will instantly help to make your bathroom feel and appear more spacious.
The colours that seem to be most effective in making your bathroom seem more spacious are lighter colours such as aqua or even a pale pink colour, what may also work nicely in your bathroom is white or if that feels too stark for your taste then you may wish to choose white with a pink, peach or yellow undertone. The benefit of using white based colours is that it provides you with a blank canvas for which your bathroom furniture will provide the colouring.

What if you are looking for more of an interesting bathroom? Well in this case you may be better off using a feature wall, as it will be the perfect way of bringing the décor to life without it being completely overwhelming in a small bathroom. When doing this you first need to choose the wall you are going to use, this should ideally be a wall that has nothing on it i.e. no windows or doors. This wall will provide you with a blank canvas in which you can create your feature wall either by using a bold colour on its own or a pattern effect to make the wall stand out.
Don't Stand, Stick

A particularly clever way of increasing the space available to you in your bathroom is to use back to wall and wall hung sanitary ware such as toilets and sinks. These are great for making your bathroom appear instantly more spacious as well as concealing the cistern and providing an aesthetically pleasing streamlining effect. Wall hung sanitary ware are designed to be especially compact meaning that they can be a real asset when trying to increase floor space in your bathroom.
It is important to consider the size of different items, such as your toilet, and how they will fit in your bathroom. Such as if, you purchase a standard toilet it may appear to stick out more and therefore makes your bathroom seem slightly smaller and a bit cramped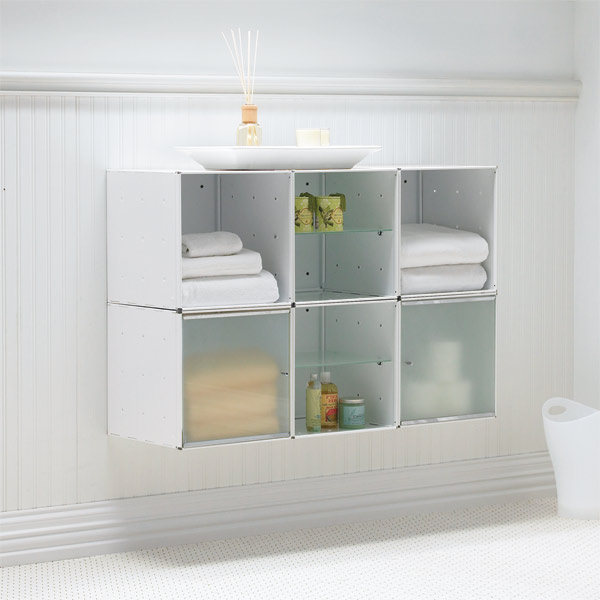 Drawers or Shelves?

When trying to make your bathroom appear more spacious open shelves are a great thing to have, as they provide you with lots of storage whilst at the same time visually opening up a small space. Open shelves can also be a great way to show off your artistic flare by making features out of your towels making your bathroom look that much more stylish.

If open shelves are not for you then you may want to consider a vanity unit. This would be a great option, as you can combine your bathroom sink and storage, which will take up less space in your bathroom and provide you with plenty of space to store your items.
Tiling Tricks

Another decorating tip that can help to make your bathroom appear more spacious is down to the tiles you use. Therefore, the common thought is that if you use smaller tiles then it would help to give the appearance of a larger bathroom, however this is not always the case. Often if you use smaller tiles then the amount of grout can give the effect of a smaller bathroom, which is not what you want to go for, this can also be said for patterned tiles, which again can make your bathroom seem small and over busy. The best tiles to use are large, plain light coloured tiles, which show less grout lines and make your bathroom seem both larger and more elegant.

The same principal can also be used if you are tiling your bathroom walls, so by using lighter plain tiles you can give your bathroom the effect of being larger and again slightly more elegant. While patterns such as black and white may be more to your liking, they can make your bathroom seem smaller and more cluttered, so as tempting as it may be you are probably better off avoiding these colours and patterns.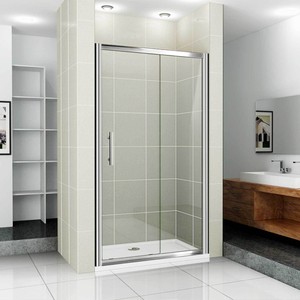 Bath or Shower? Why Not Both?

Possibly the most important features in your bathroom are your shower enclosure and / or bath, but which one do you choose for your bathroom? Well the majority of people would prefer to have both but do not have the space for them, so the best solution is to get a shower bath. Like a normal bathtub, they appear to save space by sitting flush to the wall whilst still working as an excellent focal point.
Alternatively, if you decide that all you want is a shower enclosure in your bathroom then you are probably better off getting an enclosure with some form of sliding or bifolding doors such as a quadrant shower enclosure or a bi-fold shower door. These are great to use in smaller bathrooms as they do not take up any extra space with the opening of the doors, such as a bi-fold shower door will fold in on itself, instead of opening outwards, and sliding shower doors will simply slide along the rails of your enclosure without encroaching on space.

So there you have it, by following these simple but effective tips your small bathroom will be transformed into a luxurious clutter free and practical bathroom in no time at all.