Can I Make My Small Bathroom Look Bigger?
26 Jul 2016 16:44:10
Can I Make My Small Bathroom Look Bigger?
Small bathrooms are an extremely common thing in the UK making them that much more of a challenge to fit in all of your bathroom items. However, by using a few simple design techniques, you can make your bathroom look both spacious and stylish. Therefore, to save you time we have had a look around at the various different techniques people have used around the country, which made their bathrooms look and feel more spacious which we are going to share with you right now.
Fresh Looking Paint Job
One of the simplest things that can make your bathroom appear more spacious is to give it a paint job, this might sound completely ridiculous but we can assure you it is not. If you tend to use a patterned paint job or wallpaper it tends to make the room seem crowded and somewhat cluttered, so ditching this for a clean and simplistic paint job will instantly help to make your bathroom feel and appear more spacious.
The colours that seem to be most effective in making your bathroom seem more spacious are lighter colours such as aqua or even a pale pink colour, what may also work nicely in your bathroom is white or if that feels too stark for your taste then you may wish to choose white with a pink, peach or yellow undertone. The benefit of using white based colours is that it provides you with a blank canvas for which your bathroom furniture will provide the colouring.

What if you are looking for more of an interesting bathroom? Well in this case you may be better off using a feature wall, as it will be the perfect way of bringing the décor to life without it being completely overwhelming in a small bathroom. When doing this you first need to choose the wall you are going to use, this should ideally be a wall that has nothing on it i.e. no windows or doors. This wall will provide you with a blank canvas in which you can create your feature wall either by using a bold colour on its own or a pattern effect to make the wall stand out.
Don't Stand, Stick

A particularly clever way of increasing the space available to you in your bathroom is to use back to wall and wall hung sanitary ware such as toilets and sinks. These are great for making your bathroom appear instantly more spacious as well as concealing the cistern and providing an aesthetically pleasing streamlining effect. Wall hung sanitary ware are designed to be especially compact meaning that they can be a real asset when trying to increase floor space in your bathroom.
It is important to consider the size of different items, such as your toilet, and how they will fit in your bathroom. Such as if, you purchase a standard toilet it may appear to stick out more and therefore makes your bathroom seem slightly smaller and a bit cramped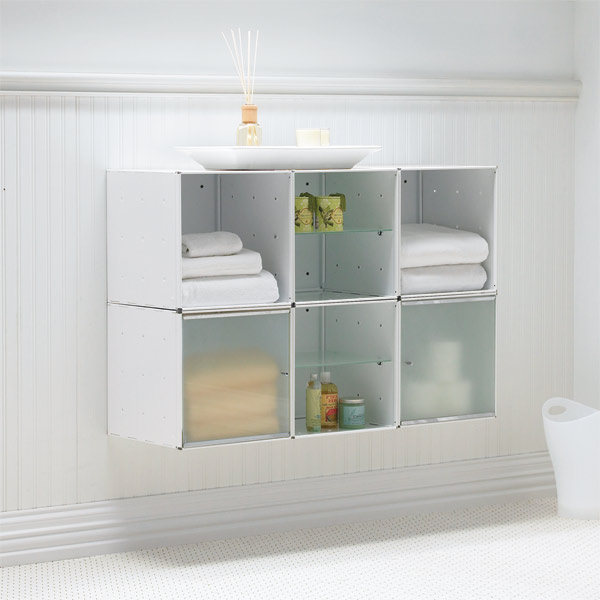 Drawers or Shelves?

When trying to make your bathroom appear more spacious open shelves are a great thing to have, as they provide you with lots of storage whilst at the same time visually opening up a small space. Open shelves can also be a great way to show off your artistic flare by making features out of your towels making your bathroom look that much more stylish.

If open shelves are not for you then you may want to consider a vanity unit. This would be a great option, as you can combine your bathroom sink and storage, which will take up less space in your bathroom and provide you with plenty of space to store your items.
Tiling Tricks

Another decorating tip that can help to make your bathroom appear more spacious is down to the tiles you use. Therefore, the common thought is that if you use smaller tiles then it would help to give the appearance of a larger bathroom, however this is not always the case. Often if you use smaller tiles then the amount of grout can give the effect of a smaller bathroom, which is not what you want to go for, this can also be said for patterned tiles, which again can make your bathroom seem small and over busy. The best tiles to use are large, plain light coloured tiles, which show less grout lines and make your bathroom seem both larger and more elegant.

The same principal can also be used if you are tiling your bathroom walls, so by using lighter plain tiles you can give your bathroom the effect of being larger and again slightly more elegant. While patterns such as black and white may be more to your liking, they can make your bathroom seem smaller and more cluttered, so as tempting as it may be you are probably better off avoiding these colours and patterns.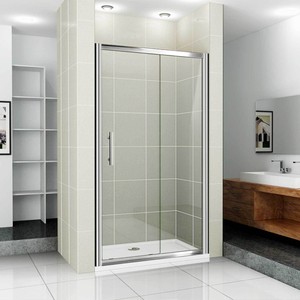 Bath or Shower? Why Not Both?

Possibly the most important features in your bathroom are your shower enclosure and / or bath, but which one do you choose for your bathroom? Well the majority of people would prefer to have both but do not have the space for them, so the best solution is to get a shower bath. Like a normal bathtub, they appear to save space by sitting flush to the wall whilst still working as an excellent focal point.
Alternatively, if you decide that all you want is a shower enclosure in your bathroom then you are probably better off getting an enclosure with some form of sliding or bifolding doors such as a quadrant shower enclosure or a bi-fold shower door. These are great to use in smaller bathrooms as they do not take up any extra space with the opening of the doors, such as a bi-fold shower door will fold in on itself, instead of opening outwards, and sliding shower doors will simply slide along the rails of your enclosure without encroaching on space.

So there you have it, by following these simple but effective tips your small bathroom will be transformed into a luxurious clutter free and practical bathroom in no time at all.